INDUSTRY F420
3DGence INDUSTRY F420 is the industrial 3D printer capable of printing high performance polymers such as ULTEM™ and PEEK. Highest quality, dimensional accuracy and repeatable results within your reach.
View Specs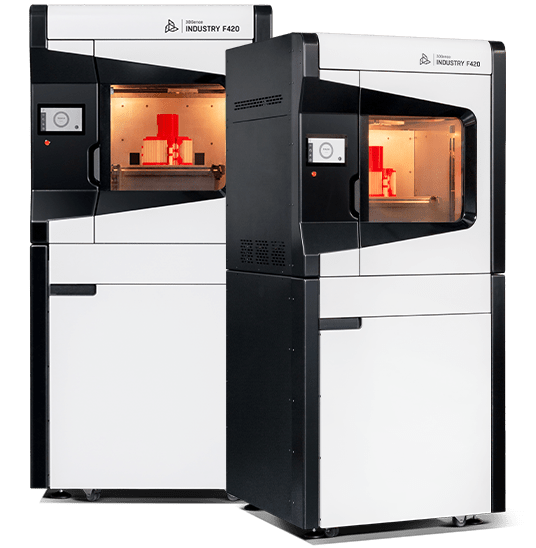 High speed
3DGence INDUSTRY F420 pushes the boundaries of the printing speed of industrial 3D printers.
The printing speed is the key aspect of the process. Print speed up to 400 mm/s and 1 meter per second of travel move makes INDUSTRY F420 a great tool. It's a great machine for rapid prototyping but also a full-fledged additive manufacturing system for your business.
Large build volume
Large chamber volume gives you the opportunity to print large or many models in one run.
With the dimensions of 380 x 380 x 420 mm you can 3D print even larger models without splitting them or joining the parts later on. 3DGence INDUSTRY F420 has the best volume to price ratio in its class.
Interchangeable printing modules
Print high-performance and engineering materials that can be used by various industries.
3DGence INDUSTRY F420 features a modular approach to print capabilities. You don't need to use multiple 3D printers anymore. Using job-specific printing modules combined with the predefined and engineered printing profiles you will always get the best quality of the prints. This unique solution makes INDUSTRY F420 and ideal PEEK, PEKK and ULTEM™ 3D printer.
Heated printing chamber up to 180°C
The heated chamber reaches a high temperature and maintains it on a stable level.
Print engineering and high-performance materials with the perfect print quality, exceptional mechanical strength and great dimensional accuracy. High-performance filaments require stable printing process and high extrusion and chamber temperature.